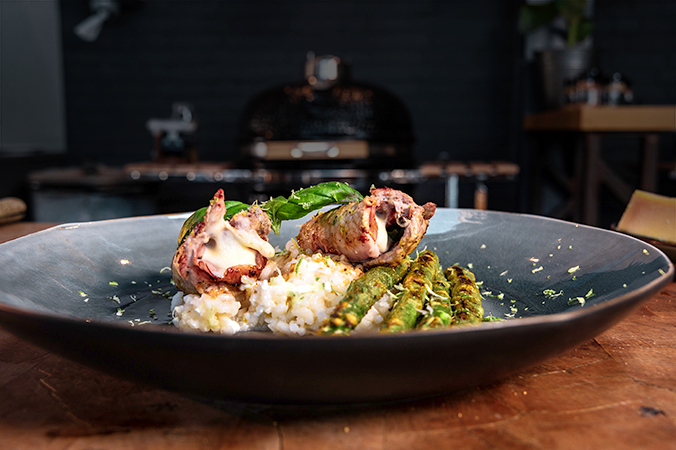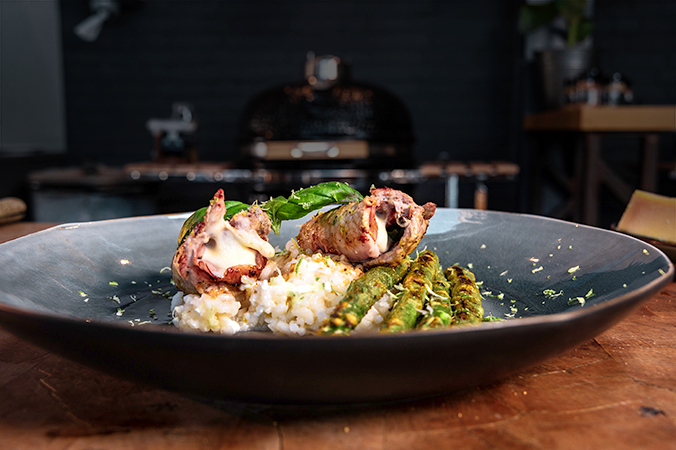 Saltimbocca with risotto and green asparagus
2-3 persons | | Meat | Main dish, Appetizer
---
Preparation
Start with the risotto, finely chop the shallot and fry it in the pan with a little olive oil. Add the rice and fry
Add the rice and fry it, deglaze with white wine and pour the stock over the rice. Let it cook for 40 min. under cover at 180 °C.
Flatten the veal slices between plastic foil, add the mozzarella, Parma ham, meat herbs and basil. Roll up the
roll up the veal escalopes and stick a skewer through them. Coat the rolls with the marinade to protect them from the heat.
heat.

Clean the green asparagus and grill them together with the Saltimbocca for about 20 minutes. In the meantime, the risotto
risotto continues to cook. At the last moment, finish the risotto with mascarpone, parmesan and the juice of a lime.
Back to
Ingredients
risotto 100 gr
lime
1 shallot
olive oil
white wine - half a glass
chicken stock 500 ml
EldurApi Vegetable herbs
green asparagus (3-4 p.p.)
veal steaks (180 gr. p.p.)
mozzarella 1 ball
basil
4 slices of Parma ham
EldurApi Meat marinade
EldurApi Meat herbs
grated parmesan cheese
2 tablespoons mascarpone
juice of half a lime
Kamado setup
Pro set
Cast iron pan (optional)